Tour Duration: 3-8 Days
Difficulty level: 

▲▲

▲▲▲

Altitude: 5054 m.a.s.l
Experience: Not required
Location: Kazbegi, Georgia
Price:
Fixed dates tour – €850
Private tour From – €850
Economy tour from – €695
Kazbek in 3 days from – €895
If mountain climbing and trekking is not just a physical challenge for you and you enjoy breathtaking views, mythology and romantic adventures, Kazbek is a mountain you definitely should climb. Mount Kazbek is one of the most beautiful and most climbed mountains on the Caucasian ridge. Technically Kazbek is less difficult than other 5000+ m Caucasus summits – another fact making Mount Kazbek so attractive.

Mount Kazbek name
Georgians call the Kazbek mountain Mkinvartsveri (მყინვარწვერი) which means a peak covered with ice, or frozen top.

Mt Kazbek height
Different sources claimed Mount Kazbek altitude to be 5047 m or 5033 m. In 2019 though the summit height was re-measured using latest technologies and a 5054 m altitude was defined, which has been mount Kazbek's official altitude since then.

Mount Kazbek climbing routes
Kazbek mountain has five climbing routes including the classical path which is technically least difficult. The most difficult path (grade 5A) goes through Dragon rocks. Out of these five Kazbek routes we offer the classical and the South-East route. Summiting the Kazbek peak is not easy. The main difficulties include altitude, crevasses and steep sections. Climbing in unguided groups without a proper preparation and equipment often results in rescue operations and in some cases, fatalities. However, climbing the Kazbek summit with an experienced and qualified Kazbek guide will be an unforgettable experience that will forever stay with you as one of the happiest and brightest life memories!

Necessary equipment for mount Kazbek
A list of equipment and clothes needed for climbing mount Kazbek can be seen in the Dress and Equipment tab. Also, if you do not have any piece of equipment, you can hire  it in our office.

The best time to climb Mount Kazbek
The best time to climb mount Kazbek is between the June and end of September. Mount Kazbek season for summiting peak is July and August. However, we offer climbs at any time of the year. The main difference between summer and winter climbing conditions is a daylight length and air temperature.

Kazbek Facts and legends
According to historical sources, Mount Kazbek was first summited by a local priest. After that, a few travellers attempted to reach the peak with no success. Officially, Englishmen Douglas Freshfield, Adolf Moore and Charles Tucker accompanied by guides from the local Gergeti village made the first ascent of Mount Kazbek in 1868.
There is a former meteorological station at 3650 m altitude on the south-eastern slope of Kazbek built during World War II. Nowadays it serves as a mountain hut.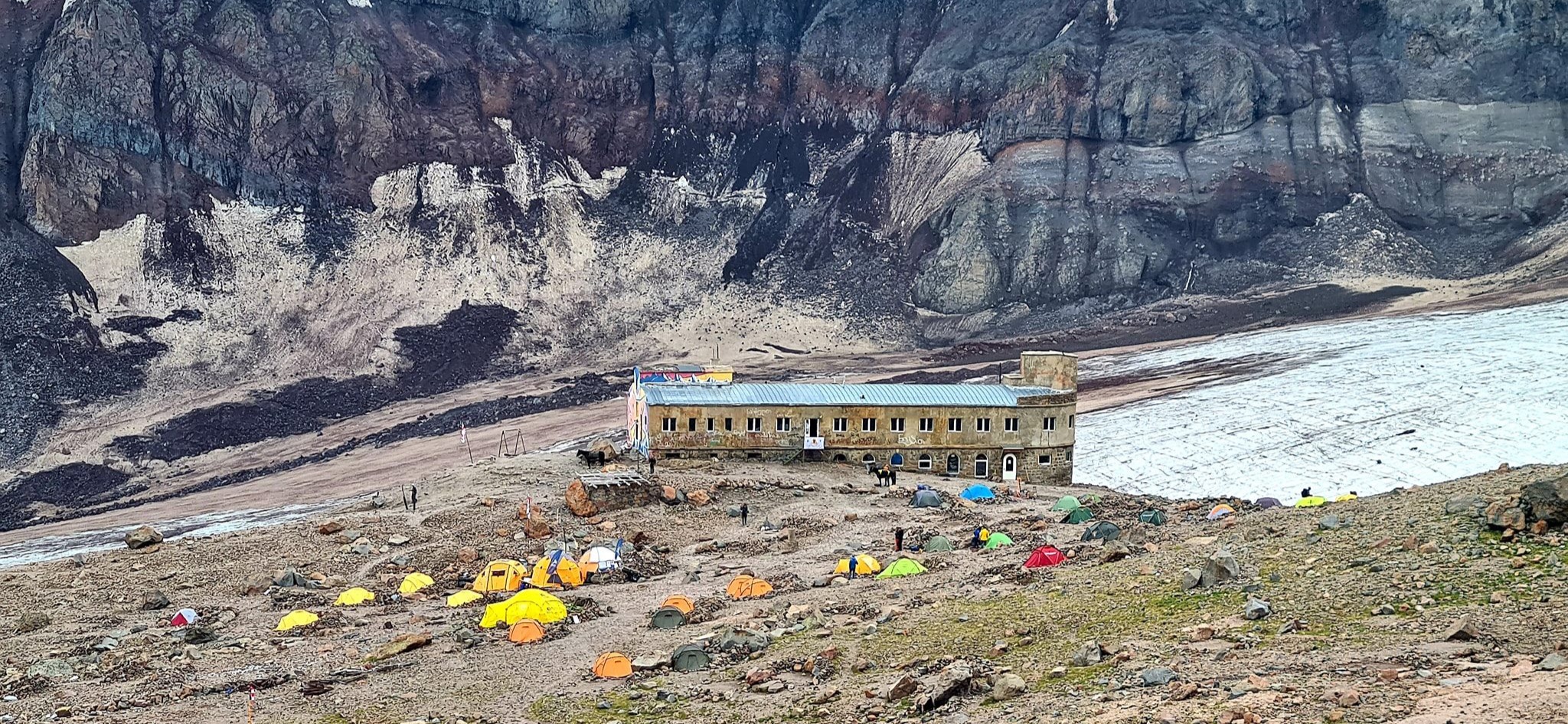 The Betlemi cave located nearby has an interesting legend: in the old times it wasn't accessible by ordinary people, so monks would use it to safely store Royal treasures during wars. It used to be forbidden for women to visit this place, but, excitingly, the Betlemi cave was re-discovered in the 20th century the Georgian alpinist lady Alexandra Japharidze.
And of course, the Gergeti Trinity church built in the 14th century at an elevation of 2200 m on the Kazbek's south-eastern slope is one of the most iconic and magnificent places to visit in Georgia.