Tour Duration: 3-8 Days
Difficulty level: 

▲▲

▲▲▲

Altitude: 5054 m.a.s.l
Experience: Not required
Location: Kazbegi, Georgia
Price:
Fixed dates tour – 990 €
Private tour From – 895 €
Economy tour from – 695 €
Kazbek in 3 days from – 895 €
Jeśli Twoją pasją są GÓRY, jeśli szukasz zapierających dech w piersiach krajobrazów,  lubisz mityczne opowieści oraz romantyczne przygody to koniecznie powinieneś wybrać się na górę Kazbek.
Kazbek jest jednym z najpiękniejszych szczytów pasma Kaukazu i stanowi najbardziej popularny cel wypraw turystów i wspinaczy.  Powodem tej sławy jest nie tylko wyjątkowy urok tej majestatycznej góry ale także jej techniczna łatwość. Te walory czynią Kazbek ogólnie dostępnym i najczęściej zdobywanym pięciotysięcznikiem Kaukazu.

Nazwa Kazbek
W języku gruzińskim nazwa Mkinvartsveri "მყინვარწვერი" (Kazbek) oznacza "Lodowy Szczyt".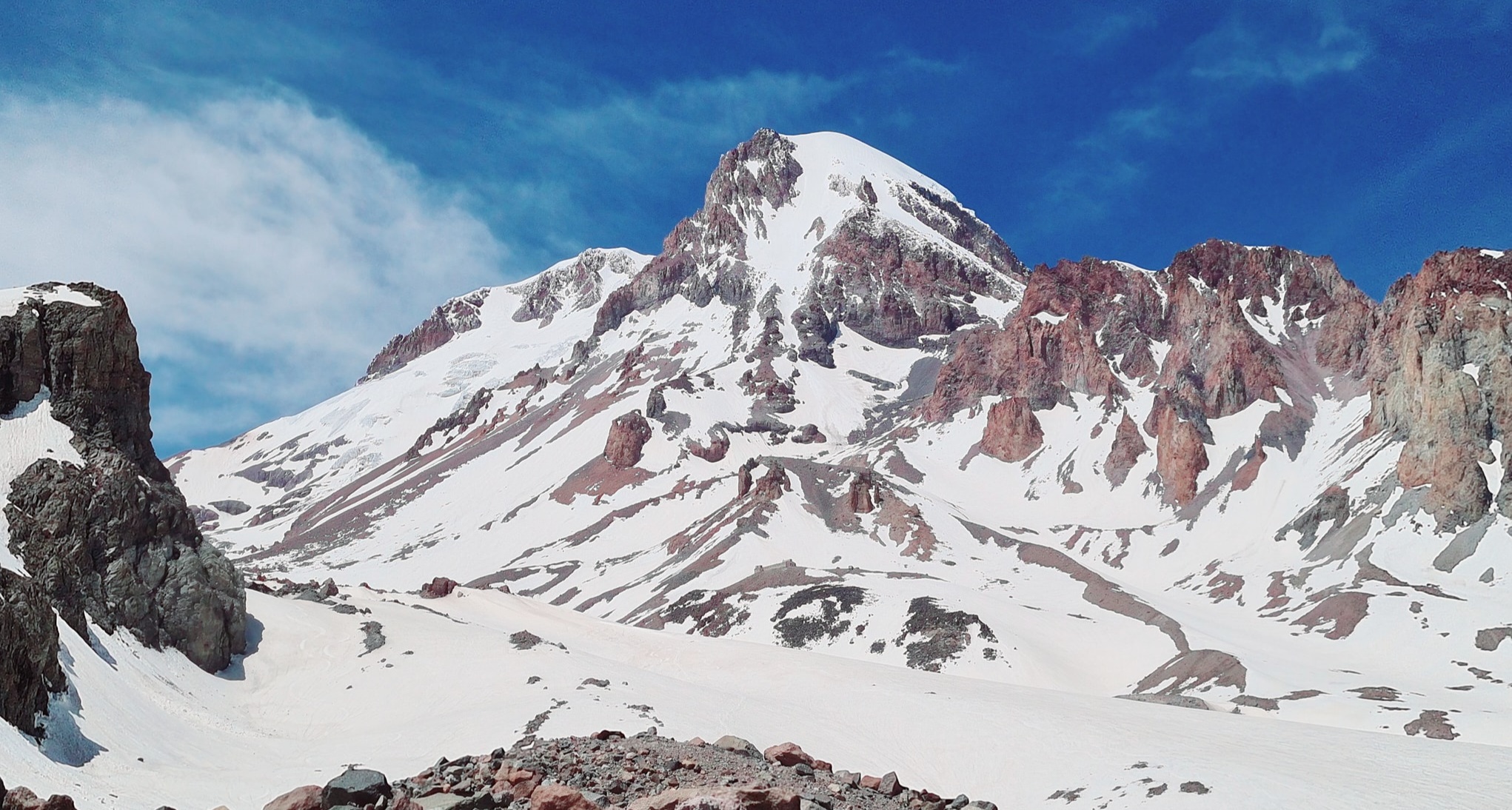 Wysokość
Do 2019 roku informacje źródłowe podawały różne dane:  5033m lub 5047 m n.p.m. W 2019 roku przeprowadzono pomiar wysokości Kazbeku za pomocą najnowocześniejszego sprzętu i udowodniono, że wysokość szczytu to 5054 m n.p.m.

Drogi wspinaczkowe na Kazbek
Na Kazbek prowadzi pięć dróg wspinaczkowych o różnym stopniu trudności.
Najbardziej dostępną jest droga klasyczna. Najtrudniejsza droga posiada kategorię 5a (prowadzi przez " Skały Smoka"). Oprócz drogi klasycznej i 5a są jeszcze cztery inne trasy, trudniejsze od trasy klasycznej. Proponujemy Wam wspinaczkę drogą klasyczną lub trasą południowo-wschodnią-nieco trudniejszą od drogi klasycznej.

Ubiór i niezbędne wyposażenie
Szczegółową listę odzieży oraz sprzętu niezbędnego podczas wspinaczki  znajdziecie poniżej. W przypadku braku któregoś z elementów wyposażenia proponujemy skorzystanie z usług wypożyczalni sprzętu znajdującej się przy naszym biurze.

Najlepsza pora na zdobycie Kazbekuhe best time to climb Mount Kazbek
Najlepszą porą na działalność górską jest okres od połowy maja do końca września. Szczyt sezonu to lipiec i sierpień  uważane za najlepszy czas na zdobycie szczytu Kazbeku. Proponujemy Wam wyprawy na Kazbek w różnych porach roku. Podstawową różnicą pomiędzy  wspinaczką letnią i zimową jest długość dnia oraz wysokość (spadki) temperatury.

Kazbek Facts and legends
According to historical sources, Mount Kazbek was first summited by a local priest. After that a few travelers attempted to reach the peak with no success. Officially, Englishmen Douglas Freshfield, Adolf Moore and Charles Tucker accompanied by guides from local Gergeti village made the first ascent of mount Kazbek in 1868.
There is a former meteorological station at 3650 m altitude on the south-eastern slope of Kazbek built during World War II. Nowadays it serves as a mountain hut.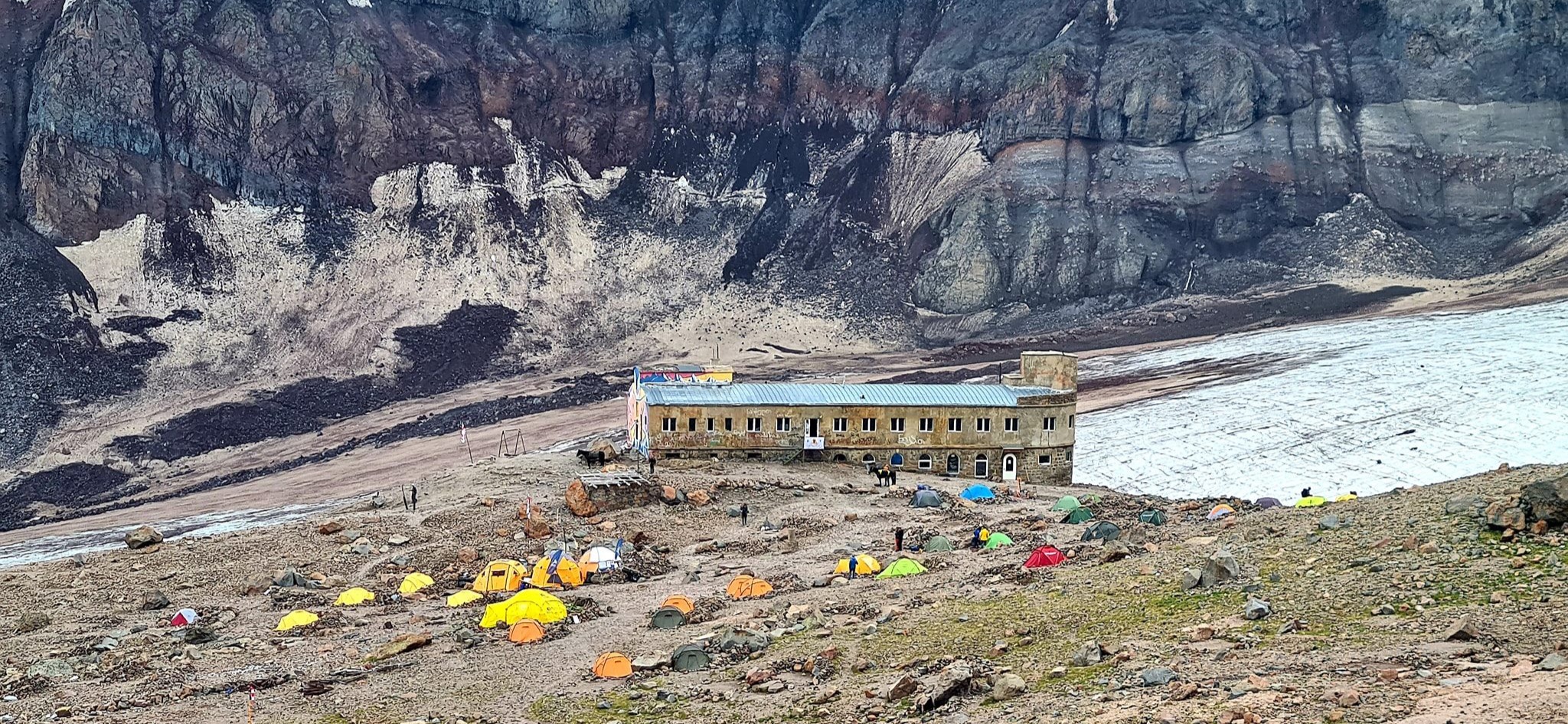 The Betlemi cave located nearby has an interesting legend: in the old times it wasn't accessible by ordinary people, so monks would use it to safely store Royal treasures during wars. It used to be forbidden for women to visit this place, but, excitingly, the Betlemi cave was re-discovered in the 20th century the Georgian alpinist lady Alexandra Japharidze.
And of course, the Gergeti Trinity church built in the 14th century at an elevation of 2200 m on the Kazbek's south-eastern slope is one of the most iconic and magnificent places to visit in Georgia.