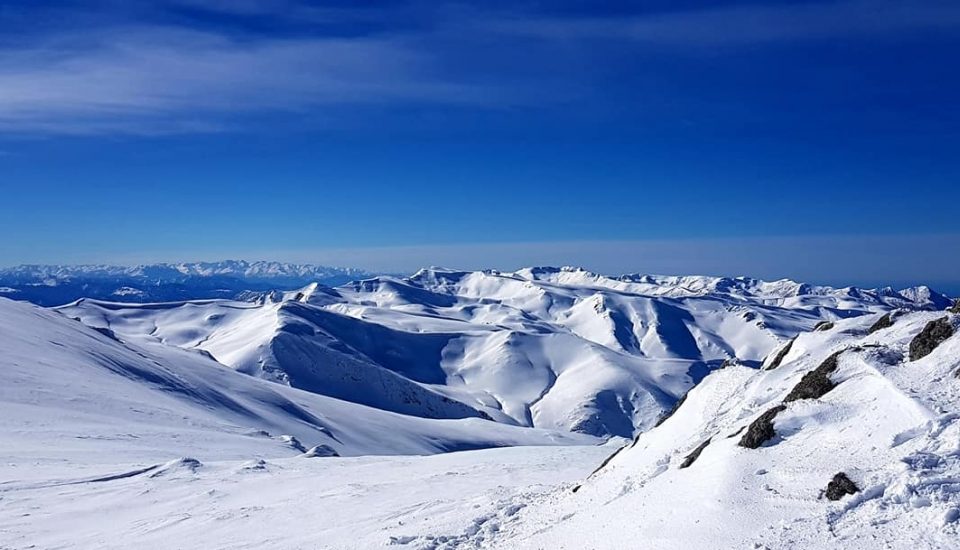 Most of the parts of Georgia are mountainous, so that is why it becomes more and more popular for spending active holidays in the mountainous parts of the country. Year after year there are more guests in summer, in winter and in spring. Except summer activities (like mountaineering, climbing, trekking, hiking, etc.) you can have extreme activities such as ski touring, ski mountaineering, cat skiing, freeriding, backcountry skiing, heli-skiing, etc.
Ski touring Season in Georgia
Caucasian mountains and the climate of Georgia give you a chance to be busy with such activities for almost 5 months, from December to the end of May. Winter season starts at the beginning of December. There are four skiing resorts in Georgia. They are in the east and in the west of Georgia.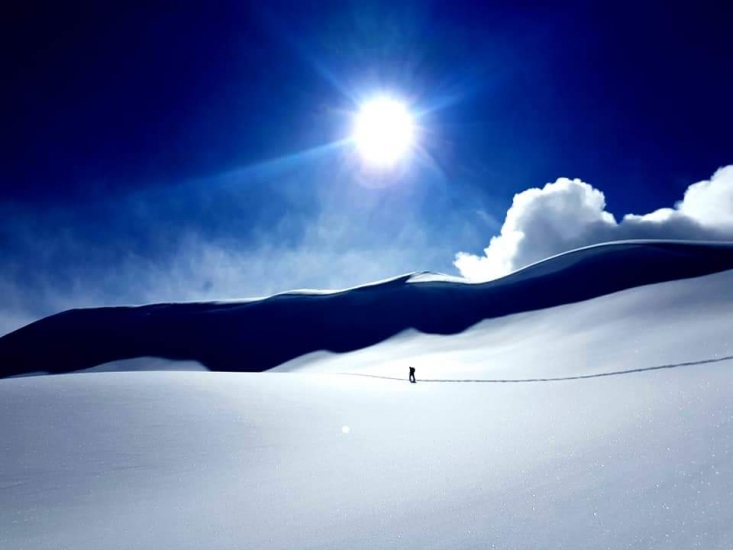 Places for Ski touring in Georgia
Gudauri ski resorts is the biggest and they are in the east of Georgia – in Kazbek region. In the west of Georgia there are Tetnuldi ski resort in (Svaneti region)and  Bakuriani ski resort  also Goderdzi ski resorts in Adjara region. Those guests who want to spend holidays in winter resorts, have a big choice. Georgia has become more attractive for those who are interested in extreme winter holidays, who are interested in skiing in the off-piste snow, heli-skiing tours or going up the peak and skiing down from there. There are some regions waiting for extreme lovers. These regions are : Gudauri-Kazbegi district, Svaneti region and Bakhmaro.
Caucasian mountains give you an opportunity to have different and interesting tours, when you can ascend 1000-1500m vertical meters and more. You can also have less difficult routs. Except standard tours it is possible to plan and change tours, in case the guest wants to.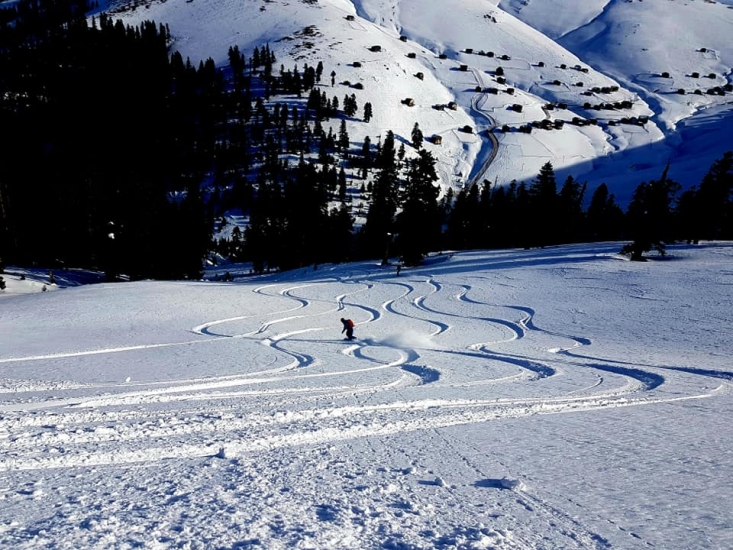 Gudauri ski resort and Kazbegi region
In east Georgian Caucasian region is very popular Kazbek and Gudauri region. In these regions you can have ski tours, heli-skiing, freeriding and backcountry tours. The tours are chosen every day according to snow conditions, weather and the capacity of the group. Near Gudauri ski resort there are mane mountains and places for ski touring like Mt Dedaena , Mt Lomisa, Mt Narovani, Khada gorge, Kobi valley and etc. Also in this region there is a 5000m mount Kazbek (5054) (Mkinvartsveri in Georgian). Experienced skiers and mountaineers can plan a ski tour of this beautiful peak.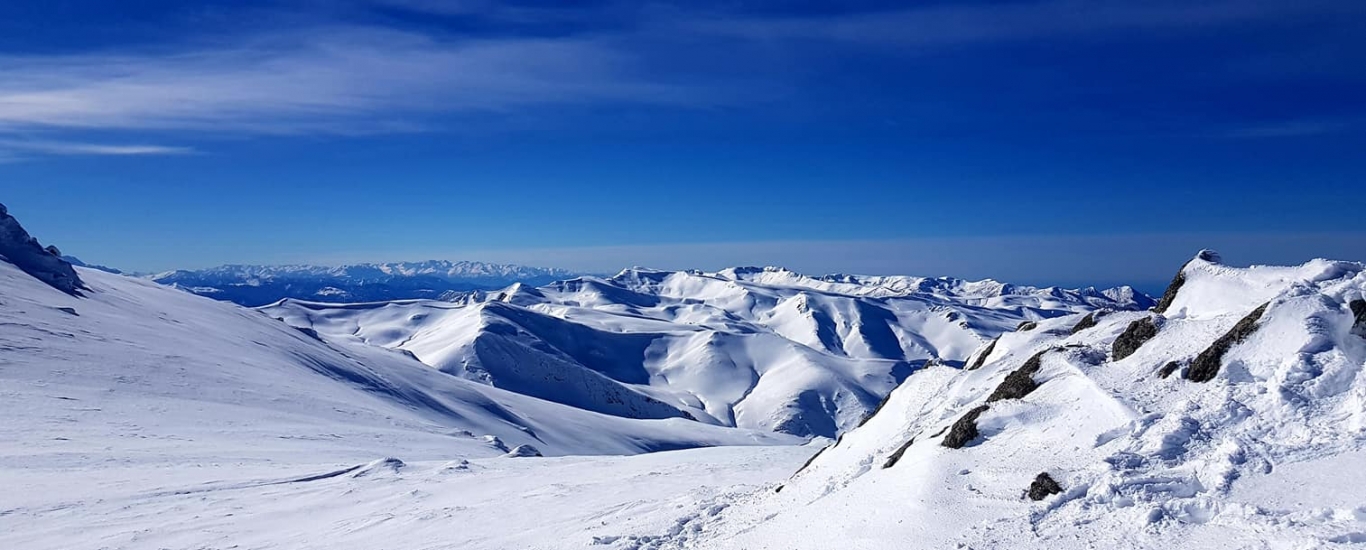 Chaukhi mountain region is becoming more popular for ski mountaineering. It is a rocky mountain massif and there are many beautiful and interesting peaks. They are not higher than 3800m. There are some long north exposition culuars to ski
In Kazbegi and Gudauri regions every planned tour includes spending nights in hotels, guesthouses or mountain huts. Mountain huts are in Kazbek and Gudauri regions. The groups are accompanied by certified, experienced mountain guides. For them the safety of guests and memorable skiing is most important. Every day of the tour starts with estimating weather and avalanche situation, which ends with supper in a pleasant atmosphere.
Skitouring in Svaneti region -Ushguli and Tetnuldi ski resort area
Another very beautiful and interesting region for such activities is Svaneti, which is in the central part of the Caucasian mountains, of west Georgia. This beautiful part is known for its peaks: Mountains  Ushba ,Shkhara, Tetnuldi,  Jangha also ancient towers, traditions and cuisine. Central Caucasian slopes give you opportunity to ski on different slopes every day. Seeing different villages and different landscape every day gives you unforgettable impression. We have to mention as well that in Kazbek – Gudauri and in Svaneti as well ,during the tour you can ski using a ski lifts for skiing, freeriding and backcountry skiing.
There are 2 location in Svaneti for Alpine skiing in Tetnuldi ski resort and also in Hatsvali ski resort . Svaneti is famous for its towers, especially with beautiful village Ushguli, which is the highest village in Europe (2200m).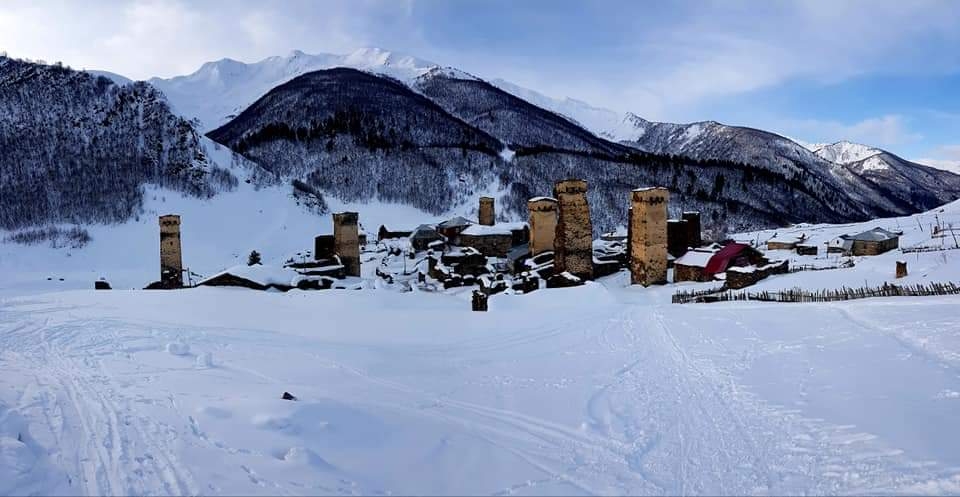 From Ushguli there is a view of 5000m mount Shkhara which is in the centre of Caucasian mountains. When it is late spring and the snow condition doesn't give you opportunity to ski on the lower height, you can ski in the off-piste snow.
Cat ski and ski touring in Georgia in Bakhmaro
Cat skiing is also very popular, which we organize in the lower part of the Caucasus in a beautiful region of Bakhmaro. You can ski in the wild forest, in the powder with beautiful views. You will really remember spending time far from the civilization in the mountain huts. Professional guides and technical staff will take care of you. Even in bad weather conditions you can ski down different slopes and in one day you can even ski down pine and leafy forest slopes more than 15 times a day. Those pine and leafy forests and new snow every day are really unforgettable. In this region except cat skiing you can ski tour and heli-skiing .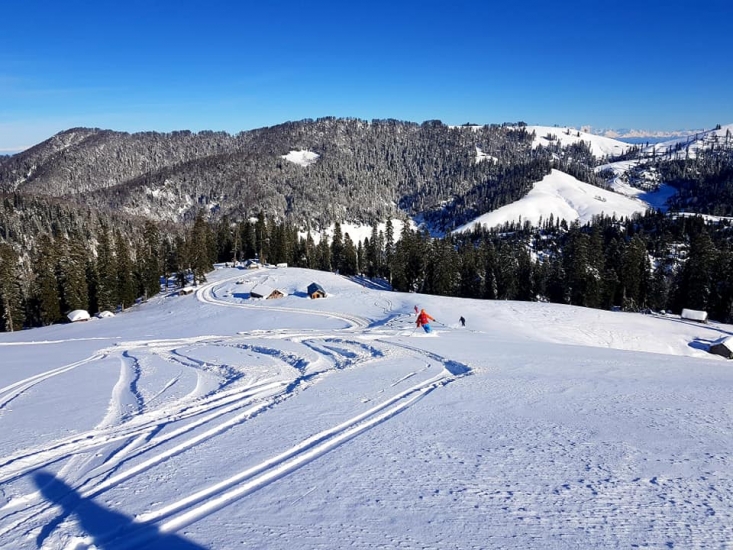 We advise those people who love skiing in the wild nature not to hesitate and visit Georgia in winter and in spring.