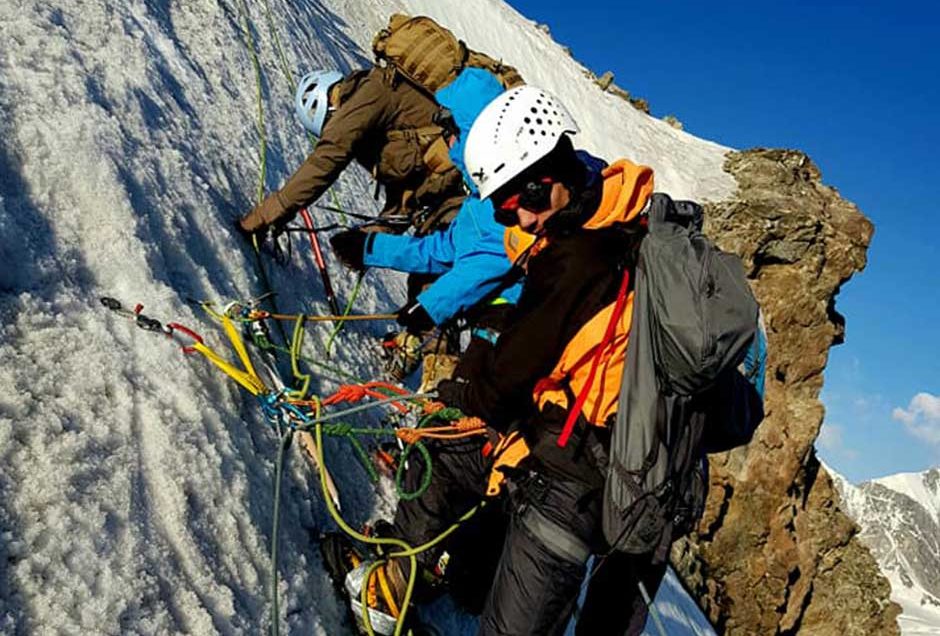 Mt. Kazbek attracts experienced alpinists as well as amateurs and walkers. If you have an experienced guide it is absolutely possible to climb the peak even if you have no experience . Climbing the mountain is possible in any season of the year individually (custom package) or by joining a pre-planned expedition. Both have advantages and disadvantages.
There is a two  different Ways to Climb Mount Kazbek
Which is the best season to climb Mount Kazzbek ?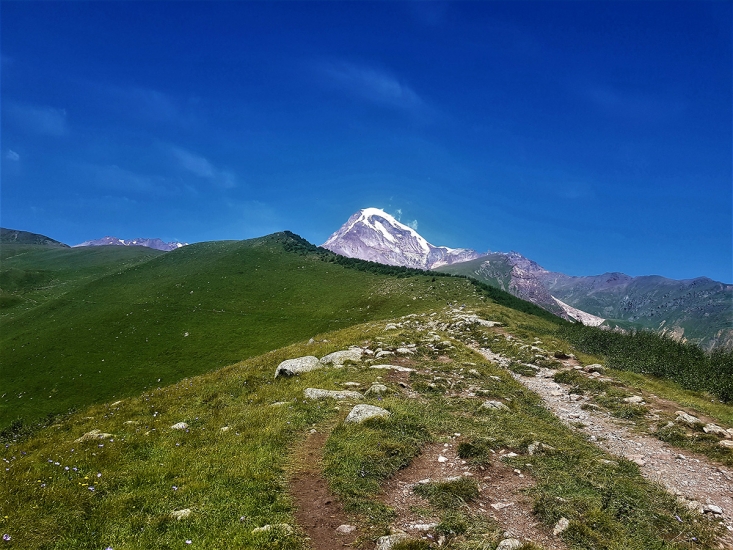 It is easier to climb most of the Caucasus peaks in summer, from early June to late September. This is also true for Mt. Kazbek , because of better weather conditions and optimal snow coverage, although we can take you to the summit any season of the year. The professional guides who work with us have successful expeditions to the peak any time of the year.
Winter
People often think that climbing in winter or in another season of the year is too risky, but from our experience this is not so. The difference between winter  and summer climbing is just temperature and more snow. To overcome the other difficulties, warm clothes and shoes designed for 7000-8000m peaks are required. Winter climbing has other advantages as well. In winter the crevices are absolutely covered with snow. The bad weather will be your adventure but in good weather you'll see beautiful, unforgettable landscapes and nature.
Climbing Mt. Kazbek is a very good opportunity for acclimatization for mountaineers who plan to climb The Himalayas or other high peaks. To prepare, to train or to acclimatize for future climbs, Mt. Kazbek is a good choice. Climbing Mt. Kazbek in winter with its difficult temperature level is the same as climbing such peaks as McKinley or ranges such as Pamir or the Himalayas.
Agency and guides for Mt Kazbek
The most important thing is which agency you trust to organize your tour and how to assess them. Within this most important thing is, of course, professional guides. Problems often happen when hiring non-qualified guides such as no experience in mountain climbing, unfamiliar with international standards for guides, problems with communication , etc. We advise you to pay attention to such things when choosing agencies or guides.
In Georgia there is as yet no law concerning guides, which would enable people to choose qualified guides. There is a way out though. Our guides have been certified according to IFMGA standards and all the trainings and examinations were carried out by international experts. We have confidence that in 2020 Georgia will become a full member of IFMGA and automatically GMGA certified guides will become IFMG guides. Our management and our guides are UGMF (The united federation of Georgia) members and active top-rated mountaineers and most of them are GMGA (Georgian Mountain guide association) certified or aspirant members.
Expeditions or Custom Packages on mount Kazbek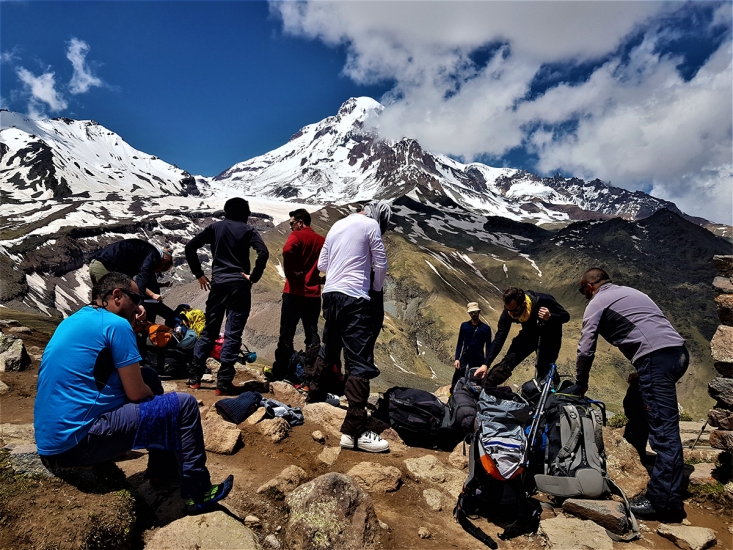 Custom packages are for individuals or a group of friends. It can be arranged according to your wishes, which means: the date of the expedition, what kind of hotel you wish, if you need an extra guide or not, etc. For custom packages we can offer standard, premium and economic class. These packages differ in the service they include, though it is possible to make changes and add or exclude some services. It is possible to add extra days for more acclimatization, minimize or add nights before going up to the base camp at Sabertse (the pass of Arsh).
Shcheduled expeditions
Another possible way of climb mount Kazbek is to join expeditions which are planned for definite dates and include definite programmes. These standard programmes assume a standard level of fitness. Dates and routes are not flexible but of course it is possible to add services, such as a horse for luggage, vegetarian food,etc. The third way is to hire your own guide. Although less expensive, you should take into account that you would have to provide all other necessary services such as transfer, accommodation, food , etc. This may be quite difficult and may lessen the joy of your tour. After the expedition guests are often interested in the wine culture and traditions of Georgia.
Other excursions include 1-2day treks, rafting, paragliding, bike tours, etc. Many other excursions are possible on request. Compared to custom packages the advantage of Pre-planned Expeditions is that they are less expensive .
For 1-3 people or more budget conscious   we recommend joining a Pre-planned Expedition. Though you won't know the physical conditions of other members, i.e. how fast or slow they walk, rope skills, etc. it can be more interesting and pleasant to participate in a big group expedition. Our fully customized package is best, if you would like an expedition where the guide works only for you , . Excepting the higher price, such a tour has only advantages. More detailed information can be found on Mt Kazbek climbing itinerary page .
Different Ways to Climb Mount Kazbek